on
September 16, 2013
at
3:30 am
Hot news for you peeps:
LEAD PAINT'S STORE IS FINALLY OPEN!
We've got prints!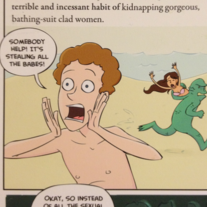 We've got buttons!
Go check it out! There's a link to the store in the header bar above the comic, or you can jump there by clicking on this link. Hope you find something you like! Also, running a store is a brand-new thing for us, so please let us know if anything's broken or doesn't make sense.
In 6 or so months*, we're aiming to have a book for sale in the store. It'll be a bigger book, our first true collection and bigger than anything we've sold at MoCCA. (Those were just smaller collections, meant for people who've never read our comic before. Our longest of those was 32 pages; we're considering 112, manga-sized, for this one.) Besides being by far the longest book we've ever made, I'd like  to put a decent amount of new material in it, say 6-to-8 pages of never-before-seen comics in it, plus a handful of other things (including collecting the first 90 or so comics first published on this site). We want to make something nice, something that's worth buying for new and old fans both, and it's going to take us a bit of time to get it done. Definitely before MoCCA 2014, which I guess is around April or May, but any earlier than that, I can't really say.
So, that's something exciting for the future, but in the mean time, there's some nice stuff for you in the store now. There are some beautiful prints full of swords and people licking lettuce, and some zany buttons, perfect for celebrating mustaches or your love of wrinkly bulldogs.
<3 Mike
* There's a chance we're going to Kickstart the book, though I'm not sure how likely that is. If we do though, that could push our timeline back a bit for the book, given that we'd be fulfilling backer rewards as well.
"Feels Like Rain" –Motion City Soundtrack